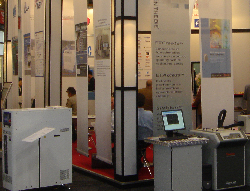 CE / EMV Marking Service AND Wafer Calibration
The European Market will only allow distribution of CE conformed and marked devices regarding the correct handling of the safety regulations, consequently we have now set up a laboratory at our German partner company, HTT to undertake CE marking which is available for anyone to use.
As the main activities for HTT are distributing systems for the semiconductor industry, HTT has adjusted itself specially for this type of system marking, in regards to technical equipment as well as the expertise of the personnel. This includes for example the setting up of a measuring cabin which is suitable for cleanroom systems with corresponding facilities as well as the most up to date measuring devices.
When completed the customer will receive a corresponding measuring protocol and conformity statement with CE sticker ready to sign.
For more details go to the HTT website
Wafer Calibration Service
To obtain accurate readings from your scanning surface inspection systems it is essential to carry out precise and careful calibration.
MSP will deposit PSL particles or real-world particles onto wafers supplied by the customer, to produce ´personalised´ standards.