Creden Group of Companies founded in 1998 with its headquarter in Puchong, Malaysia, is a relatively young but fill with energetic & passionate team in designing equipment and providing solution to semiconductor, mass storage and general electronic industries. Creden has many years of close working with key industries leader and thus are constantly strive to develop cost effective equipment that suits the needs of today's rapidly changing manufacturing challenges.
Creden's has a strong R&D team with in-depth experience in mechatronic design, software design and optical application design. This enables Creden to innovate a wide range of products and solution for semiconductor from optical inspection system, IC packages handler, wafer handler, process defect & data management system, other factory automation products and application specific dedicated for mass storage and general electronics. These products are built with high quality components and tight tolerance precision parts that are fabricated in house by skilled machinist.
Besides selling products directly to end customer, Creden also offer our manufacturing facilities and expertise for Contract Manufacturing Services to many globally reputable maker where manufacturing cost has become an unbearable threshold with today's competitive market situation. Creden R&D team also undertakes cost down project and joint development collaboration with some renowned equipment makers in semiconductor industries.
Industrial Equipment
Optical Inspection System
Optical Inspection System
Semiconductor Handler System
Semiconductor Handler System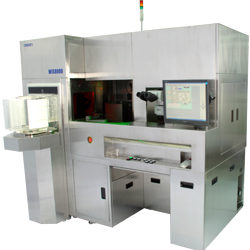 Sub-System Components
Microscopy Lighting System
Microscopy Lighting System
Precision Machining Parts
Contract Manufacturing Services & OEM